Once upon a time, in the wild world of startups, an infectious idea took hold and refused to let go. It danced in the minds of Latvian Startup Association team, going through countless rounds of procrastination and endless debates for and against. But you know what they say – when an idea haunts you day and night, it's time to unleash it upon the world!
Lo and behold, the day has arrived when we announce the birth of the first-ever Latvian Startup Awards! And while our team is busy with arranging smooth application and evaluation stages, the date of the award ceremony has been officially unveiled. Drumroll, please… it's September 8! Your action plan is to mark your calendar and reserve a spot through the Eventbrite link right now!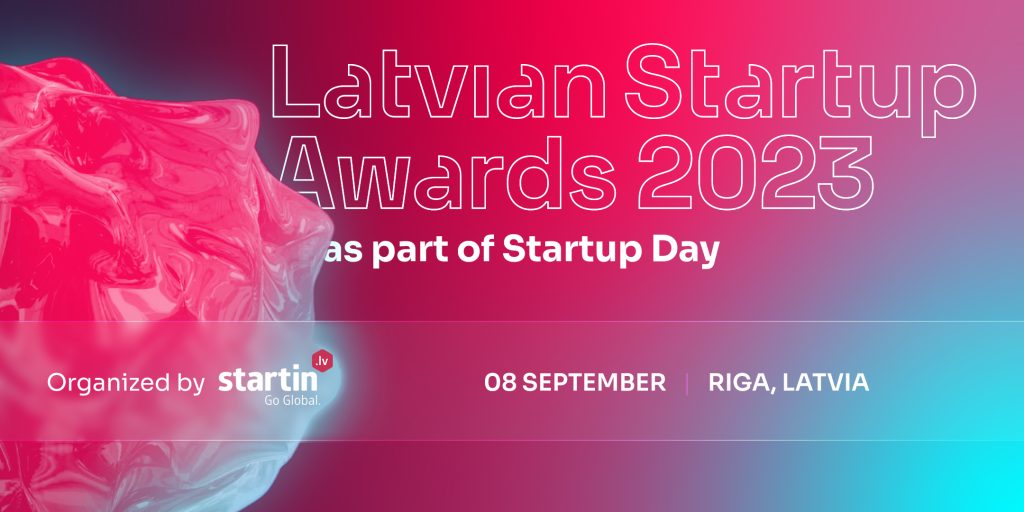 The purpose behind 
In the ever-evolving landscape of the Latvian startup ecosystem, where innovation and ambition collide, a new wave of technological prowess is emerging. Like a snowball gaining momentum, the tech scene in Latvia is maturing, absorbing practical experiences, learning from mistakes, and growing stronger.
Each year, Latvian startups reach new heights of success and make a global impact. They inspire a new generation of entrepreneurs, leaving a lasting impression and raising the standards for those who follow.
The purpose of Latvian Startup Awards is to honour remarkable accomplishments, breakthroughs, and triumphs of startups. It is a testament to their unwavering dedication and spirit.
What to expect on September 8 
The awards ceremony will take place in Riga as part of Startup Day 2023, the annual forum bringing together local and international startups, ecosystem rockstars, and investors scouting for the next unicorns. Don't forget to pack your super-founder cape and your business cards because you never know when you'll meet your next game-changing collaborator. 
The on-site event will be split into two parts. In the first half of the day, the agenda will be filled up with panel discussions and fire-side chats shedding light on the pressing challenges and triumphs in the local startup environment. BTW, you can catch up on some presentations from the previous year's Startup Day conference on our website, under the section "Webinars & Events". 
In the afternoon, attendees are invited to stand united and cheer for the well-deserved triumph of their own or another startup as the winners of the Latvian Startup Awards will be announced from the stage. 
Participation in the event is free, and the program content will be conducted in English. Due to limited seating availability, we advise securing your spot ASAP to be part of this momentous occasion. 
More about Latvian Startup Awards 
At the beginning of July, the application round for the Latvian Startup Awards will kick off, unleashing 8 nomination categories:
BREAKTHROUGH 
NEWCOMER 
GROWTH 
IMPACT 
HARDWARE 
SOFTWARE 
FOUNDER-HERO 
COMMUNITY CHOICE 
Here's what the evaluation process will entail: 
Stage 1: For approximately one month, anyone within the community will have the opportunity to either showcase their own startup or nominate a deserving contender in one or several categories. 
Stage 2: From the pool of applicants and nominees, we'll shortlist the candidates. Categories 1-7 will be assessed by the Jury, and Category 8 – Community Choice – will be open for public voting. 
Stage 3: The expert jury, a group of 5 startup ecosystem shapers and policymakers, will roll up their sleeves and dive deep into evaluating the shortlisted nominees. By summing up the points, the winners will be selected.
Take the action 
Visit the site at https://startupawards.lv/ – APPLY yourself or NOMINATE someone!
Keep your eyes open for updates coming your way soon! And don't forget to spread the word about the event to your friends and partners who might be interested.
Are you looking to get more involved in the event on September 8? We love people who take initiative, and we've got a few options for you:
Become an event supporter by providing financial support, resources, or expertise to help fund and enhance the event.

Share your unique experiences and expertise and join as a speaker. We'd be glad to chat with you about potential topics.

Are you new to the startup ecosystem and eager to dive into the fascinating world of startups and entrepreneurship? Join us as a volunteer!
Drop us an email at startupawards@startin.lv, and let's get the ball rolling on how we can team up.